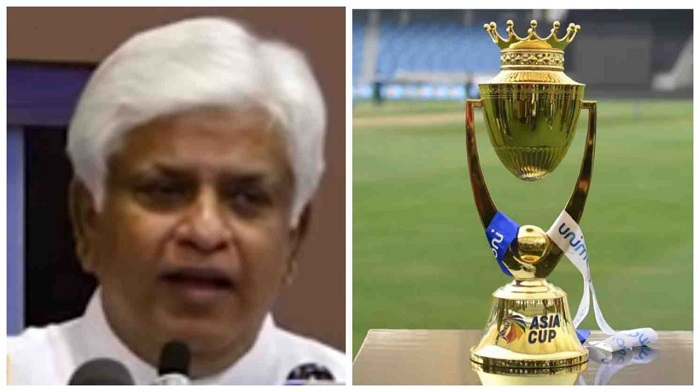 Former Sri Lanka captain Arjuna Ranatunga lashed out at the International Cricket Council (ICC) and Asian Cricket Council (ACC) for being 'toothless', expressing his disappointment over the scheduling of Asia Cup 2023. The decision of ACC to slot in a Reserve Day for the Super 4s match between India and Pakistan has garnered criticism.
The original Asia Cup 2023 scheduled had a Reserve Day scheduled only for the final. However, due to inclement weather conditions in Colombo, the ACC announced a Reserve Day for the marquee Super 4s clash on September 10. As expected, rain allowed only 24.1 overs of play on Sunday and the game moved to the Reserve Day, allowing India to clinch a 228-run win over their arch-rivals.
Notably, Sri Lanka and Bangladesh head coaches had expressed concern over the sudden slotting of the Reserve Day, but both the boards said in a statement later that the decision to allot the extra day for India vs Pakistan was taken after consulting with all the boards at Asia Cup 2023.
" "ICC is a toothless tiger. They act very unprofessionally. I think they are the ones who should protect cricket. Ultimately cricket should be controlled by ICC and not by a country. In Asia Cup, you had rules and you changed rules for one game. So where is ACC? Where is ICC?," Ranatunga said, as quoted by PTI news agency.
"So I will not be surprised if, for the World Cup, they have a separate rule for Indo-Pak game. This is bad. India is powerful, no doubt but then ICC officials are quite comfortable, happy putting on a coat and tie and hanky and going to meetings," he added.
Ranatunga said changing rules of a tournament to suit one or two teams would put the game in jeopardy, and slammed ICC and ACC for inaction.
"I am not very comfortable when you have a tournament, where you change rules for one team. You are looking at a disaster in the future," the World Cup winning skipper fumed.
"I feel very sad for ICC and ACC because they just want to hold the positions. Former cricketers too don't open, simply because they need the bucks," he said.
WHY POOR SCHEDULING IS ALLOWED?
In a sarcastic tone, said he would not be surprised if India's World Cup match against Pakistan at Ahmedabad gets a reserve day.
"I won't be surprised if they change the rule before the India-Pakistan game (in World Cup). ICC will keep their mouth shut and say 'OK, do it'. ICC just talks rubbish, nothing happens," he said.
Ranatunga said world cricket should not be governed by one board or individual, and cited the Asia Cup scheduling issue as a case in point.
"Why do the other countries allow that (poor scheduling) to happen? Because the BCCI is powerful, or one particular person is powerful. No, it can't happen like that. They should have given an extra day for all the games if that was the case," Ranatunga said.