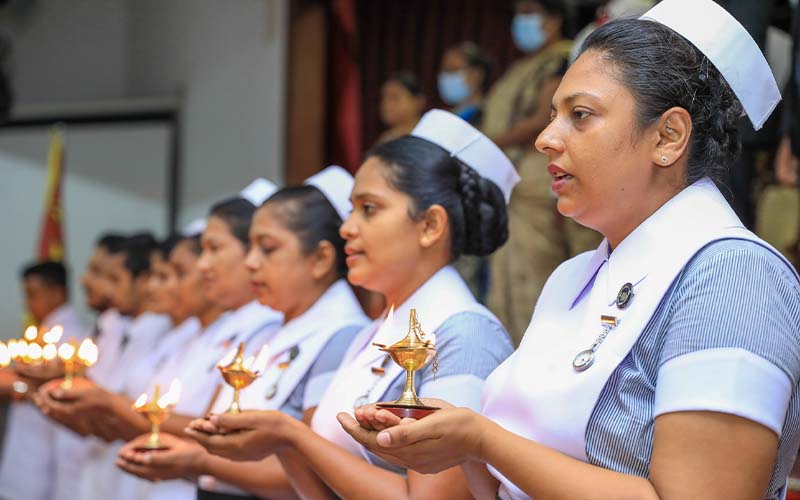 Nursing should be developed as a sector that protects people's health and also brings foreign exchange to the country – Mr. Sagala Ratnayake said at the International Nurses Day celebration
Addressing an event organized at the Colombo Foundation on the occasion of the International Nurses Day, Mr. Sagala Ratnayake, the President's Senior Adviser on National Security and Chief of the Presidential Staff, stated that a program to generate income for Sri Lanka through 'Health Tourism' is expected to be prepared.
He emphasized that in a country like Sri Lanka, which boasts a beautiful environment, the 'Health Tourism' program is highly advantageous, and that the nursing centre should devise new programs to help generate revenue for the country.
Alongside this, Mr. Sagala Ratnayake also took part in the awarding of excellence awards to nurses and nursing officers.
Expressing his views at this event Mr. Ratnayake further said,
Thank you for inviting me to celebrate International Nurses Day. It's a significant day worldwide, and I'm delighted to know that our country is also taking part in the celebrations. I have the utmost respect and appreciation for the remarkable work done by nursing staff. Their dedication and service are particularly felt during times of crisis.
During the Covid epidemic, I witnessed firsthand the incredible service provided by nursing staff. Despite the risks involved, they never once thought of giving up or neglecting their duties. Their noble service helped save countless lives and played a significant role in our country's successful fight against the epidemic. Thanks to their immense sacrifice, Sri Lanka was able to overcome the crisis faster than many other countries in the world.
I would also like to take this opportunity to reflect on the economic situation in our country. When Mr. Ranil Wickremesinghe assumed office as President, the country was facing severe economic risks. We were struggling with shortages of foreign exchange, fuel, gas, and medicine, and we didn't even have the funds to carry out essential tasks. We all know the dire situation in countries like Sudan and Lebanon. However, today, our country has made significant progress in terms of economic stability, and we have been able to reduce the basic problems faced by our citizens.
Looking to the future, I believe we should be creative and explore new avenues for economic growth. With our country's beautiful environment, we can develop health tourism as a potential source of income. Let us work together as a nation to build a brighter future for all.
As a Sri Lankan, I am aware that many Sri Lankans living in England and Australia come back to our country to receive medical treatment. However, we should not view this as a negative thing. Instead, we can turn this into a business opportunity and develop this aspect of our healthcare system further.
There is also a significant demand for Sri Lankan nurses in foreign countries. However, some are facing difficulties due to language barriers and a lack of proficiency in English. As a nation, we need to solve these issues and capitalize on this demand. We must strive to create a better country for our young people, and we must take steps towards achieving that goal.
Fortunately, inflation in our country is currently decreasing, and prices for goods are becoming more reasonable for consumers. If we had not received support from the International Monetary Fund, the situation could have been much worse. It's essential that policies remain consistent, regardless of changes in government. The government is committed to providing adequate income for all Sri Lankans, and we respect and appreciate the service of each and e